84
Rock the Frock, Cherish the Dress, Trash the Dress – all these terminologies mean the same thing – an opportunity to wear your wedding dress again – but this time not to be so worried about it getting stained, and to get something different from your photo-shoot.
One of last year's brides, Sarah, mentioned during one of our wedding consultations that since she was little she had always dreamt of riding her horse in her wedding dress and wondered if I would be able to make the dream become reality after the wedding? I could see straight away this would be a fun opportunity to try the Rock the Frock concept so of course I said yes!
As it was approaching their first wedding anniversary we talked again about a Rock the Frock shoot (I prefer to call it that as I certainly don't intend to trash anyone's precious dress!!) and came up with a date to meet Sarah ,her lovely husband Matt and pet dog Sally at the farm where Sarah's horse Cordy was stabled.
Getting on a horse isn't easy at the best of times but when you are wearing a wedding dress……….needless to say Sarah's face was an absolute delight as she cantered around the field, dress and veil flowing. It seemed to be the perfect opportunity to include Sally in the photos too- I just wish I had done the shoot sooner so we could have put some of these images in their wedding album!
If you have an idea for a Rock the Frock session of your own – do give me a call – I can't wait to do another one!
Sarah's Rock the Frock Session!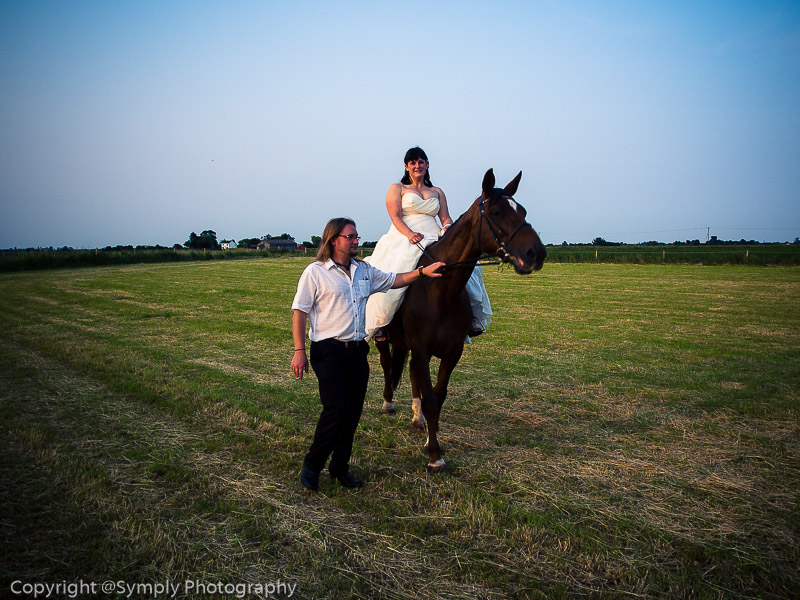 />