Helping couples get enduring, natural and emotional images of their wedding – without taking over the day!
Hi – my name is Sharon – a highly experienced professional Lincolnshire wedding photographer – and I help couples who  want beautiful wedding photographs
(but really can't bear the idea of posing all day!)
However…. it is your wedding day and you want something at the end of it all to remind yourselves way down the line of what happened!
So you are here because you appreciate its too important a job  for you to leave it to shots captured on someone's phone.  Or your friend who has a "good" camera (but is likely to put it down after a few drinks!)
How do you choose?
There's hundreds of  wedding photographers in Lincolnshire alone!
 The number one thing you can do for yourself and your big day is to choose the best team you can wholeheartedly trust.  This is where I can help
I totally understand how crazy and stressful it can be planning a wedding. I've been doing wedding photography for a very long time.  I have built up a solid reputation not only with my previous clients – but also amongst the wedding industry (venues, registrars, event planners etc) of being someone who will capture your day  unobtrusively -but with a lot of fun – and very little fuss!
 Why not download my FREE guide – it might give you some pointers you hadn't thought about:
I love capturing  same sex weddings. There are  lots of examples of civil partnerships and weddings that I can show you.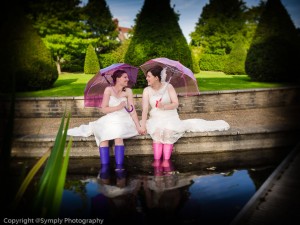 I also take natural family portraits. My style for portraits is to find out exactly what you want and give you the very best images without uncomfortable cheesy posing!
You might  be interested to have a look at my  commercial photography service, pet photography, incredible boudoir experience  or the very unique Diva Portrait Parties (birthday parties for girls)
Or even better – let's have a chat? I'd love to hear about your plans and you can suss whether I'm the right photographer for you!
If you pop over we can have a glass of fizz while we discuss your day. Or coffee if you really prefer!