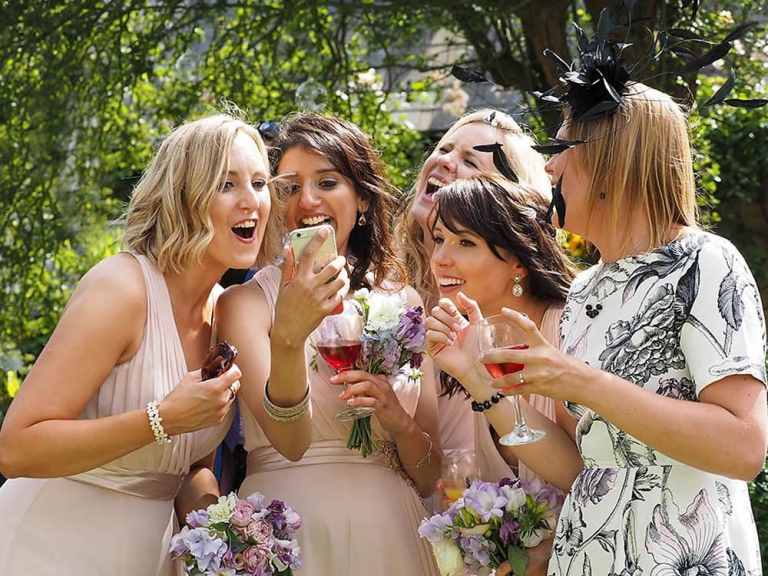 You want it to be one of the best days of your life, but nothing can stress-out a couple more than trying to decide who to trust (venues, florists, and caterers etc.), to make their Wedding Day special. High amongst these judgements will be who to entrust to capture the day in pictures. Amidst the pressure of making all of these choices, the temptation to make an easy (perhaps even a "pick the cheapest") decision looks very appealing. However, as a wedding day involves months, sometimes even years of planning, it's worth remembering that, once everyone has gone home the venue is organising the next wedding, the cake's been eaten, the drink's stopped flowing, the flowers have died, your dress has been boxed up and the honeymoon is a distant memory, your photographs are one of the few things to help you remember all of the wonderful details of the day. From the conversations amongst guests over the morning after breakfast to the couple looking forward to seeing the images after returning from honeymoon, the expectation is very real. Don't leave them to chance.
So, how do you choose the perfect wedding photographer for your day? Your choice of photographers is enormous (Googling "wedding photographers in Lincolnshire" delivers 117,000 results)! As a photographer who's been involved in helping couples realise their wedding dreams for over 20 years (I have been to a lot of weddings), here are my top ten tips.
1. Don't just choose on price alone – I would say this wouldn't I, but whatever you do, it is almost impossible to compare photographers "like for like". Each has their own style, choice of albums etc. So, look at their portfolio or web site and make sure that you like the style of images that they produce. Then, decide if this person is within your budget? Make sure you understand what everything costs, what is included in packages including reprints and albums and ask yourself "Is he or she worth the price difference?" In a recent survey, when asked what they would change about their wedding, 75% of brides said they wished they had put more of their budget aside for the wedding photographs, rather than on fripperies.
2. Book a professional "Wedding" Photographer – That is one experienced and specialising in weddings. Good wedding photographers have a sixth sense and spot opportunities before they even happen. They have to work fast and deal with changing light and environments to capture those special moments. They are often found acting as part wedding planner (ensuring timings are kept to, providing tissues for mum, liaising with the vicar and the venue) as well as just coping with the natural emotions of the day! Most importantly, they must be good with people. In my experience, Grooms (and often guests) don't do "faff". Someone skilled at directing people around without fuss or delay really enhances the smooth running of the day. There's a world of difference between a good photographer and a good wedding photographer. A few words on the "but I have a friend with a "good" camera" discussion. I have some professional scissors but you probably wouldn't want me to cut your hair (would you?)!
<3. Make sure you actually LIKE your photographer! You will spend as much time with them on the day as your partner. When you meet with a photographer, make sure you're meeting with the person who will actually shoot your wedding. If you're still having trouble deciding, book an engagement session first and take your photographer for a "test drive" before the big day.
4. References: Check out reviews and testimonials. A personal reference is always the best and people love to talk. Be wary if there aren't any on a photographer's website! (I am so very proud of my reviews by the way – I use an independent review company so people can put what they want without me altering it to suit! ( Have a look here !)
5. Be really clear about what you want – don't worry about being a "bridezilla" because everyone has very different understanding of what things mean. People can mess up, with the best of intentions, if they misunderstand you. As a wedding photographer, I can tell you there's no such thing as 'over-communicating'. On the flip side, if you DON'T have specific things in mind and you like your photographer's portfolio, it's totally okay to just let them do their thing.
6. Think twice about just going for a digital only package – After spending money on your wedding photos, please, please do not leave them just sitting on a computer. DVDs and hard drives do get scratched or malfunction. If you are not ordering prints or an album from your wedding photographer, as soon as you get your disc have them printed on archival paper by a professional photo lab for safekeeping. If you can't afford an album immediately ask if your photographer will do flexible payment terms, or is willing to do an album later.
7. Think about the time of year you are getting married – In Winter (or just our sometimes variable summer); you may need someone experienced in shooting in low light, candlelight and rain. This is where skilled photographers really come into their own. No camera however good, is going to compensate for those sorts of conditions; it is up to the person operating it!
8. Truth in Advertising: It is a natural assumption that the images on a photographer's website or brochure are their own work. However, they can be furnished by whoever made the website or brochure. Are the images you are seeing from a real wedding or "stock" photos from a controlled shoot? A wedding is definitely not a controlled shoot and the photographer must know what is happening and where to be when it does. If you have doubts, don't be afraid to ask where the weddings were and the names of the bridal couple in the photos. Look for complete sets from actual weddings rather than just 3 or 4 portfolio shots from several different weddings.
9. Insurance and back-up – Boring but essential. Your chosen photographer should have public liability insurance. Carrying backup equipment is essential. If the camera malfunctions (and they do from time to time), everything stops till it's fixed (If it can't be fixed you will have no photos).
10. The date, when it's gone – it's gone – Your photographer should be exclusive to you on your wedding day, so choose and book your photographer as soon as you have set your date, and chosen your venue.
Finally – yes I know I said 10 tips but this is one I just can't leave out – most cheap wedding photographers have other day jobs to supplement their income from weddings – however – beware –  this is a status  from one of my photography forums on Facebook
"I got a phone call from a bride local to me. Their photographer had messaged them on Facebook saying he was too busy with his day job and could no longer do their wedding. The wedding is in five weeks. How could someone do that to a client? I'm doing it for them instead"
Don't be that bride that ends up in tears – book a professional .