Your wedding album is quite possibly going to be the most  expensive , personalised book you will ever buy.  It is also your first family heirloom so it pays to make sure that the one you choose is going to last a lifetime.  I provide a range of stylish quality albums  which you can choose from.  Some of  my more popular albums are detailed below but I can source any to suit your style.  Easy interest free payment plans are available to help out should you wish.
Of course if you want , it is very cost effective to put together your own , and  the images from your  cd are optimally enabled for you to do this.  However, a word of warning, do not underestimate the amount of time and effort involved in putting a stylish album together!  Also, and I know this from experience, a lot of the popular online photo albums just don't stand up to the test of time – some of them have fallen apart in my hands within a year. (I have one here – I know!!)
~The Artemis Album~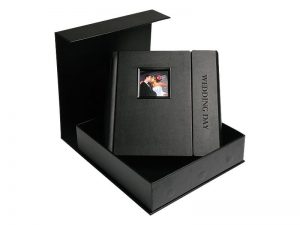 This is a professional lab produced album, ensuring quality and consistency. The style of the album is classically simple with full 10×10″ photographs on each side (plus a smaller photograph on the front cover).  Multi aperture pages are also available.  Your names can be embossed on the cover as shown for just £15. The cover is leather effect and the black, velvet lined, presentation box is also included.  A very elegant, luxurious album, which is really popular due to its stunning simplicity.
It is also possible to order mini parent/friend albums. These come in 3×3″ or 3.25×2.25″ sizes and are sold in multiples of 4.  Each mini album contains 14 of your purchased images – they are excellent value and makes great gifts for the bridal party!.
~Graphistudio Storybook Albums ~
NEW FOR 2013 – EVERY PACKAGE INCLUDES A STORYBOOK ALBUM
Graphistudio Albums are simply stunning. There is so much choice – just check out their website to see the huge variety on offer . For brides who want a real alternative to traditional albums but with the freedom to choose everything – from the number of pages, to the cover, to the finish – to the size – the choice that comes with these albums is amazing.    These albums are also known as "storybook albums" or "coffeetable books". Graphistudio only supply to professional photographers so you can be sure you are going to get a stunningly gorgeous, dreamy  album (with a lifetime guarantee) of your day – something to cherish for ever. See an example album here
The very popular Parent Books -   can be purchased for very competitive prices with even greater discount if ordered as a copy of the main album.   An ideal solution for those extended family requirements!   Parents who want to make up their own albums rather than a replica of the main album can do so from £92 – this is for a 10 page 12 x 8 album.
Finally, as if there wasn't enough choice Graphistudio are the only album manufacturer to offer the unique Pocket Books – soft backed replicas of your album – an amazing and memorable gift for your family and friends.
~Tony Sarlo Albums~
Beautifully elegant – the Tony Sarlo range uses the more traditional method of photos inserted into multi aperture slip in leaves.  The range comes in a wide variety of contemporary and classic colours and sizes to suit the most discerning bridal couple.  The albums are handmade, book bound and very luxurious!
And finally….. I hear about photographers keeping couples waiting months for their album.  I don't think this should happen and I aim to have your book to you within 4 weeks from receiving your order!