Just to give you an outline of what to expect
on your wedding day from your Lincolnshire Wedding Photographer
~In The Morning~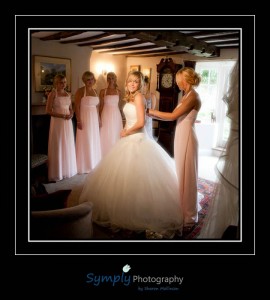 As your Lincolnshire wedding photographer, If you want me to,  I can capture the  magical moment when you step into the delicate folds of the special dress you picked out so many months before, your mum watching with a tear in her eye, and your bridesmaids fussing around excitedly. Its also the time when having a  female wedding photographer working discretely in the background is most advantageous – making sure that you will not need to feel self conscious.
I like to see the whole event unfold, and I will start in the brides dressing room, documenting your day so you can remember every bit. The morning before can be relaxed, fun and intimate, or absolute mayhem! I try to use this time to capture the beautiful details of that exquisite dress you will never wear again, the carefully chosen jewellery and of course those fabulous shoes.
Hopefully we'll have a little bit of time to get a few portraits while you are looking your most glamorous, but I will mainly work in the background, recording what is happening and keeping out of the way. This is a time for you to grow used to the camera and to relax and prepare for showtime.
~The Ceremony~
I'll leave before you do and head to the wedding ceremony venue so I can meet with the groom there. The groom, his best man and ushers should arrive early at the wedding venue ready to greet the guests. .
As long as he's on time I'll get some photos of the boys together and the obligatory ring shot
When the guests are seated and the groom has taken his place, I'll wait for the bride's arrival.
As the tension builds I'll step into the background and shoot pure reportage photography, capturing the ceremony from the sidelines.
I'll document the key moments, as the bride walks down the aisle, saying the vows, exchanging the rings,  the kiss – the messages on the shoes

I won't step in and stop the proceedings in their tracks (some do!) , and I don't expect you to look at the camera until you see me at the end of the aisle as you walk back down as man and wife.
~Group photographs~
Most couples still want group photos and despite the trend for completely photojournalistic wedding photography I think a few posed group photos is still a great way to commemorate the coming together of friends and family. I'd suggest keeping your list of group photos short and succinct so the photos fit around your day, not the other way round. I try to keep these informal and relaxed, so when you look back at your album you will see your friends and family enjoying themselves, not standing to attention.
When we meet I'll ask you for a list of essential groupings, including names, and I'll ask that you nominate an usher or bridesmaid who knows most people to help coordinate. Make sure to plan enough time in your wedding schedule for the group photographs – but I won't keep your guests hanging around – I'll do the group shots first so that they can travel to the reception and get the drinks in!
~Bride and Groom~
All the commotion and it's easy to forget your wedding day is about just two people. Sometime before the  reception we should get together for some photographs with just Mr and Mrs (and me!). Its great for you to get away from your guests and spend a bit of time together, and I'll capture those essential bride and groom photos.
How long we spend is purely down to you and I think it is important that your photos do not interfere too much with the natural progression of the day. If you want to have a few key shots of the two of you and then get back to the party then I'll make sure there's definitely some keepers for the family album. If you have a bit more time we can sneak away and try something more creative, visit some different locations and take a more relaxed approach.
I try to give you some space, the time to yourselves will give genuinely romantic moments that make your photos seem more natural and real, but we're not all models so sometimes I'll suggest where to stand, and how to pose to get the photo I envision.
~Wedding Breakfast and Evening Reception~
The best photos of your reception will be candid ones from across the reception hall, as your guests laugh and chat, and you unwind and enjoy the party. Forget you're on camera and ask your guests to do the same, no posing just natural, fun wedding photographs.  I'll be back in prime position to record the emotions and merriment during the speeches.
As the celebrations continue into the evening there will still be lots to take photos of . If you have asked me to  stay onto the evening reception then  I will ensure you have photos as you cut the cake (if not done earlier) , throw the bouquet and take the floor for your first dance, and generally capture the party atmosphere.
~After the Wedding Day~
Enjoy the rest of your night and we'll speak again a couple of weeks later when you are back from honeymoon. First I'll invite you over to view your images on a beautiful slideshow set to music designed to recreate your special day. Once you have approved your images- after the tears have dried –  these will be put onto your own personalised  cd,  fully edited, colour corrected and ready to go. This allows you to select the images for your album and order prints and other products. All the images will be uploaded on to your password protected website so that you can share them with your family and friends.  This will stay online for a year so plenty of time for them to order reprints should they wish.
 Only now will I expect you to pay the balance of your bill for the photos – when you have seen them ,and when you are happy with them.
If you have  decided  you want an album we'll sit down and work out which one suits you, you  choose your favourite  images and then I'll get to work to create a personally designed layout. You should receive your final package between 2 and 6 weeks from your wedding date, depending on what you order, how long you take to decide on your favourite images, and the album printers leadtimes. I certainly don't expect you to wait six months as sometimes is the case elsewhere! If you have just gone for a cd with all the images on this will be handed over on settlement of the package. An album can be chosen a few months down the line if you wish, and I offer easy payment terms to help ease the budget!