I love the  boudoir side of my photography business, and am one of the premier female boudoir photographers in Lincolnshire.  Every woman has said how confidence boosting, incredibly special and beautiful they feel – both just after a session, and after seeing their photos. My boudoir photography is elegant, stylish and tantalising but most of all they are images you are going to be proud of for years to come.
Boudoir Portrait Photography is becoming  a popular style of portraiture for the woman who wants to treat herself – or him! It's a wonderful way to dress up – or down – feel glamorous and have the opportunity to see just how beautiful and sexy you really are .
Who doesn't want to feel fabulous? Don't we all? Each and every one of us have our own personal body issues and insecurities about ourselves of one form or another (we wouldn't be human otherwise!) so booking a professional boudoir portrait session although it seems daunting and daring it's the perfect way to boost anyone's confidence and by the end of the session you will be feeling super special!! Why not have my  professional make–up artist Katie work her magic on you first for the ultimate pamper?  If you want to feel like a yummy mummy,  a glamorous grandma a sizzling siren, a funky chick or just plain beautiful then this is the perfect treat for you and maybe that special person in your life by giving them a gift they'll never forget! Relax and unwind while we do all the magic stuff and we promise you will leave with a certain spring in your step!
Boudoir photography is as varied as we are – some women want a hint of sensuality –killer heels, a man's white shirt, and some want something more with Basques, stockings, baby doll-  whatever you are comfortable with and obviously I will take the time beforehand to talk to you and find out what you are looking for.
Most of my ladies use the boudoir session to give their partner a fabulous wedding, birthday, Valentine, anniversary or Christmas present – imagine his face when he opens up that beautiful album full of stunning images or perhaps a framed print that you can put up in your bedroom?  The popular DVD slideshow usually leaves their jaw dropping!
Bridal boudoir is also incredibly popular for brides who wish to leave the groom a "see you at the alter" present!
This is a comment left on a review site by a client's husband
"My wife bought me an album of portraits of herself for christmas. Sharon has done a fantastic set. I'm amazed at how relaxed she looked throughout, an exceptional album of photographs. I would highly recommend Symply Photography to all"  Mark – husband of boudoir client
However,  while boudoir photographs make amazing gifts, they also make you feel absolutely wonderful about yourself.  When you see those final photographs, you will be stunned at just how wonderful you look, and how it makes you feel.  If you have ever watched Gok Wan's "How to look good naked" series then you will get a feel for how my clients view themselves after one of my sessions.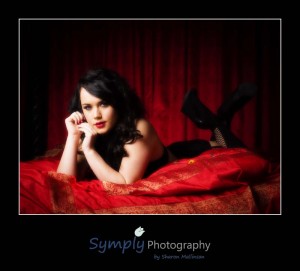 My typical client wants to feel special,  and wants to feel beautiful.  Maybe you are nervous about boudoir photography, but you will soon find out how casual and relaxed our session is, and I can guarantee you will LOVE the experience of it all!  I don't require that you know all the poses.  I don't require that you are an expert in front of the camera.  Leave all of that to me, and just relax!  We'll have a lot of fun, a lot of laughs, and you will end up with the most beautiful photographs you've ever seen of yourself.  You see, being a female boudoir photographer helps – I understand the sensitivity and the natural nerves and will aim to make your  session as relaxed and giggly  as possible.  I  provide a lovely dressing gown  cover you up between poses , and makeup remover if you need it after the session if you are wishing to keep it a secret from your partner. The session is private – just the two of us in my lovely home studio and sumptious bedroom or-  if you have the gorgeous makeover option (and I strongly recommend you do !) –  we will be joined by the lovely Katie , my make up artist who has had years of experience in bringing out the inner siren that lies within all of us! Click here to see why we recommend you have the makeover………
I know how nerve-wracking it is anyway to have your photograph taken – but I will use all the tools at my disposal to help make you look fabulous – specialist posing skills, creative  subtle lighting and of course airbrushing is standard to put the final glossy polish onto your look. You can't make me look that good people say to me – oh yes I can – have a look at just what can be done with specialist airbrushing skills  ….
Every woman should experience at least one boudoir photography session in her life – ideally including  professional hair styling and makeup with my specially trained make up artist , so that she can see just how beautiful and sexy she really is!
"Sharon is amazing! I knew what I wanted and Sharon spent time with me before the shoot so we were both comfortable with what I wanted to achieve. Nothing was to much trouble, and the results, well all I can say is wow! I never thought I could look so beautiful. A refreshing honest opinion, Sharon really got me! thank you so much!"  Vicky – Boudoir customer
Call me on 01529 241633  to book your wonderful, fun,  confidence building session.
A  boudoir shoot lasts two hours and you may choose to have various outfit changes during this time.  We will create several different "looks" for you.  If you wish to have a makeover session beforehand then this can also be arranged with our specially trained make up artist Katie.   Boudoir sessions can also be bought as a beautifully presented gift voucher – a great idea for a bride to be or for a special friend's birthday perhaps?
Still unsure – this is what Margaret had to say after her boudoir shoot-
 "I had my Boudoir photos taken on Sunday and was really nervous but Sharon was amazing she made me feel so relaxed. I have now been and viewed my pictures and I want them all they are WOW I can not believe it is me. If there is anyone out there wanting to have some pictures taken please go see Sharon I can honestly say you will not be disappointed. Thanks Sharon you are amazing xx".
When we have finished your boudoir shoot I will spend time carefully editing your images to ensure they are as  stunning as possible – we will then arrange a viewing so that you can choose your images.  The images are also uploaded to your very own private password controlled gallery so you can view them whenever you want.  I also offer a wide selection of high quality framed, canvas and acrylic wall hanging solutions to display your artwork at home , or beautiful albums if you wish.   (For full details of our prices please click here)
After selection your images will be available for collection 2 – 6 weeks depending on which fabulous products you choose.
So what are you waiting for …..want to feel good about yourself  ….want to look good? Then go on – pick up the phone and book your session today- you won't regret it and we'll have a lot of fun

– contact Sharon on 01529 241633 or fill out the contact form here.